Salsa Luzern
The SALSA Dance School N°1 in Central Switzerland
Our recommendation:
The largest Salsa family of Central Switzerland recommends SALSAMANIA Salsa Luzern as the best Salsa dance school.
With its long-standing international experience, SALSAMANIA Salsa Luzern has, passionately, passed on for years the unique Salsa feeling and the whole world of Salsa dancing.
Nowadays, Salsamania dance school is well known across the borders.
90 % of the Salsa students come through personal recommendation of previous students to Salsamania Salsa Luzern. It is the perfect place for all those who love Salsa and for all future Salsa dancers.
For a free Salsa lesson and further Salsa classes enter now to: www.salsamania.ch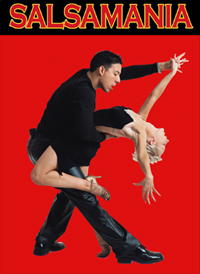 Dance partner / SINGLES
In Salsamania you will get your dance partner!
Many participants don't have a dance partner and visit the Salsa class alone. Salsamania Salsa Luzern guarantees a dance partner to a 100%, meaning that there is always a balanced number of men and women in a Salsa course.
Therefore, don't hesitate to enrol as a single; Salsamania is pleased to organise a suitable dance partner for you.

Left feet
No longer a problem!

Whether you have two left feet, are young or old, lack rhythm or are not born as a natural, everyone can learn to dance Salsa in Salsamania and everyone is welcome – singles and couples!

Your success is guaranteed!
We are very happy to welcome you on the website of SALSAMANIA Salsa Luzern dance school !